Hunting Dog Gear & Supplies
This page contains some of our most popular products in each category, However we have LOTS more to choose from in each category, Just CLICK on each category to see FULL line of each product.
600+ LBS DIGITAL HANGING SCALE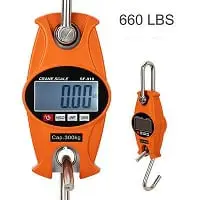 Great Scale we have used for a few years and now have to offer on the website. Easy to carry with you so you never miss a weight of your next trophy.
Scale Dimensions: 3.1 x 12 x 1.5", Weight: 23 oz. Has a Capacity of 300 kg/ 600 lbs. and Accuracy: 0.05kg / 0.1lb. Modes: kg / lb. Auto Off: 3 Mins. 1" large illuminated LCD Illuminated display. Power: 1.5v×2AAA Battery (Included). Stainless Steel Load Receptor and Aluminum casing. Auto Zero Resetting/power off.
$34.99
MULE TAPE Style Rope (NEW) 100'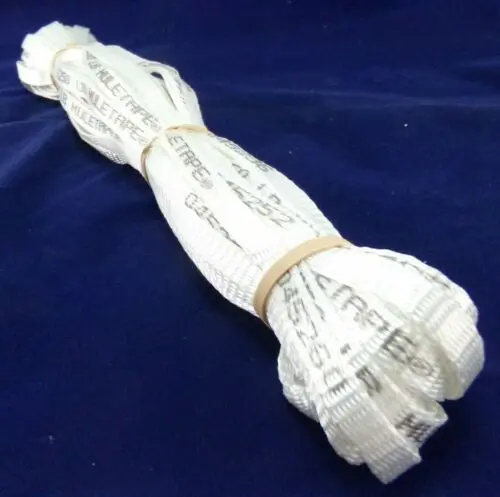 NEW 100 Ft. Bundles. Made of 100% polyester in the USA. Pre-Lubricated and Low elongation.
$20.99
Dan's Dog Days Mesh Vest #428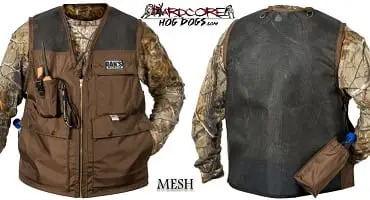 Dan's new Dog Days Line is designed for the hotter days of the summer and provides briar protection! The dog day vest features a mesh back and shoulders, Garmin pocket, water bottle pouch, cell phone pocket that accommodates all smart phones, security zipper as well as expandable cargo pockets.
$70.99+
Dan's Dog Days Mesh Vest #422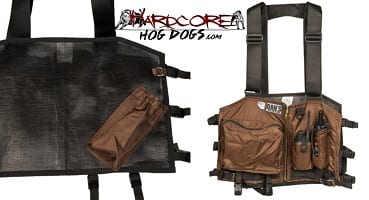 Mesh Strap Vest is perfect for summertime hunting. Zip-up front with breathable mesh back. Includes Garmin Pocket, water bottle style pocket, Belt for battery pack and spot light or similar, large cargo pocket, etc.
One Size (fits small - 3XL)
$79.99
LACROSSE ADDER SNAKE BOOT
****4-STAR RATING!****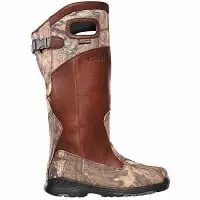 Easy. Adjustable. Comfortable. The flexible Snake Guard liner means you can maneuver through the terrain with ease and confidence.
Height 18", Traction Best For All Terrain, Snake Guard Protection, Steel Shank, Removable Polyurethane Footbed.
More boots Available on our BOOT PAGE.
Dan's PULL-OVER BRIAR HOODIE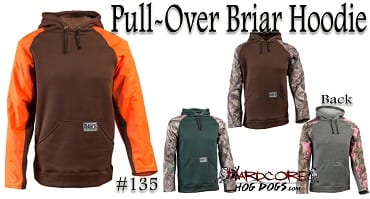 Get comfy in this new, mild weather favorite! Our pull-over briar Hoodie is made of sweatshirt fleece with protective nylon sleeves.
* Add $5.00 per X after XL
More Shirts & Coats Available on our BRIAR PAGE
$79.99+
Snake Protector Froggie Hip-Waders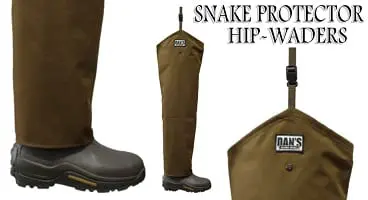 Dan's or HCHD cannot assume liability from injury resulting from the use of this product, as protection from snakes.
WATER PROOF up to the top! Snake protector chaps are made out of the same tough material as the Brush Buster, but come with triple layers to give the protection from the snakes and are sewn and sealed to the boots of your choice.
More Hip-Waders Available on our Hip-Wader Page!
20D Nylon Pouch Holster Carry Case for Two-Way Radio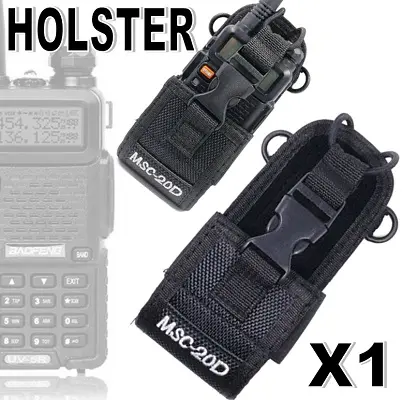 Fits a variety of walkie-talkie models in the market, waist hanger, chest hanger, shoulder hanger are available, easy to operate. Use nylon material, durable, different wearing styles available for different people. Adjustable length, when adjusted, it is ready to use all the time, easy to wear. It leaves your hands free, safe and convenient. For Kenwood, BaoFeng, etc. and other radio models of the same size (size: 125x35x63mm). Please make sure it fits your radio well before you buy it. $15.99
2X Dual-Band v/UHF FM  Two-way Radio Scanner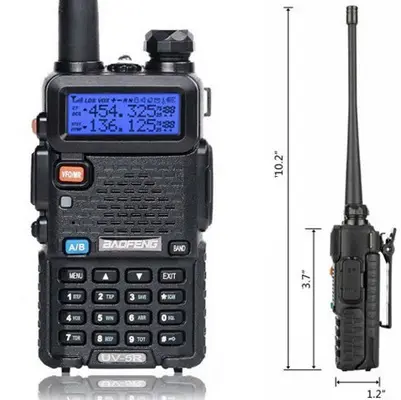 Dual-Band Display, Dual Freq, Display, Dual-Standby, Output Power: 4 /1Watts, Built-in VOX Function, 1750Hz Brust Tone, FM Radio (65.0MHz-108.0MHz), LED Flashlight, Large LCD Display, Hight /Low RF Power Switchable, 25KHz/12.5KHz Switchable, Emergency Alert, Low Battery Alert, Battery Saver, Time-out Timer, Keypad Lock, Monitor Channel, Channel Step: 2.5/5/6.25/10/12.5/25KHz, ROGER SET, free Earphone Mic/Headset, CTCSS, DCS 144-148MHz $34.99

Gel-Rubber Soft Case Protector for Two-Way RADIO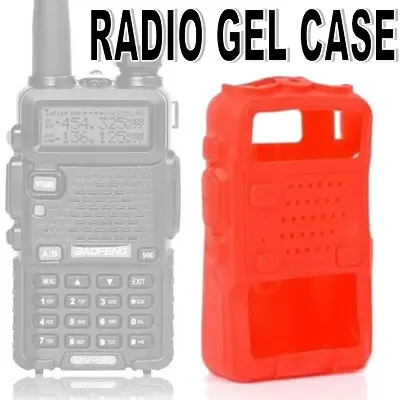 Rubber material designed to fit the walkie-talkie better makes the protective performance more prominent. Size: 10x6 x3.5 cm. Weight: 17 g. Color: Red. Compatible radio models: BAOFENG UV5R UV-5RA UV-5RB UV-5RC UV-5RD UV-5RE UV-5REPlus UV-985 TH-F8 or other radios in the same size. Please ensure it just fit your radio before buy it.
Package Includes:
-1 X Rubber Soft Handheld Case $12.99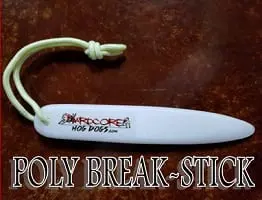 The POLY BREAK STICK is our best selling stick. It offers a tough stick at a good price to hog hunters. It's poly material is strong and allows the parting of the toughest month dog, but is semi-soft so that it is easy on dogs mouth and gums.
$14.99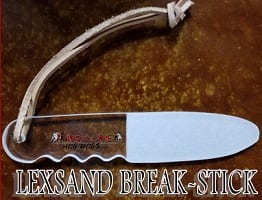 The original LEXSAND BREAK-STICK is the toughest of the options offered. Made from lexsand, it offers a really tough option for hog hunters.
W. Leather.
$15.99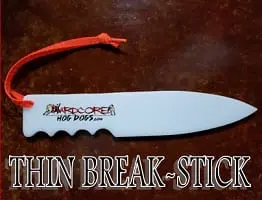 THIN-STICK is the newest stick we offer, when I first seen this stick 6 I did not think it would work, but w/ testing is has far exceeded out expectations "when using POPER breaking technique". Half the thickness of normal sticks offers a great tool for hard mouth ear dogs.
$12.99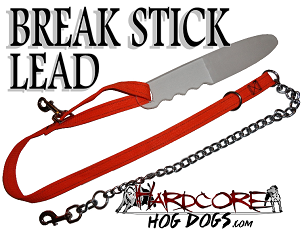 Tired of getting to a catch and not having a Break Stick, well this is our way to try to solve that problem. Break Stick Lead has a lexsand break stick sewn into the lead with a nylon handle. So it's simple, if your leading your catch dog, you have a break stick.
BREAK STICK BELT HOLSTERS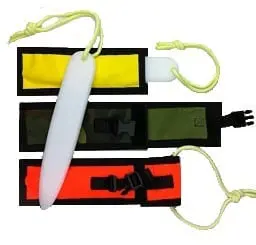 All Holsters work with Poly Break Sticks, Only the Yellow Holster works with the Lexsand Breadstick.
Camo Holsters come in old style camo and Air Force Digital Camo.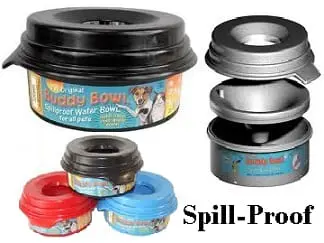 NON-SPILL WATER BOWL
THESE THINGS ARE A MUST HAVE FOR THE SUMMER!
This is probably more than I ever thought I would spend on a dog bowl, but once I saw one of these in use, I just had to have them for my trips. So now we decided to get them to offer to all hog-dog hunters.
GREAT FOR DOG BOXES!!!
$24.99
STAINLESS STEEL DOG BOWLS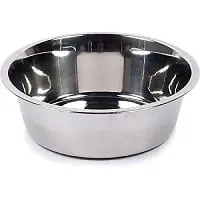 Heavy-Duty pro-select mirror finish stainless classic dog bowl.
$8.99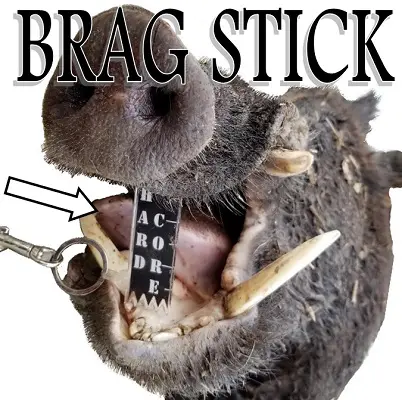 Rather you are on your UTV, ATV, Truck, or Boat or its just on your bag, always have a easy way to display tusk with this jaw seperating key-chain.
$4.99

Lead are made of heavier cable than standard leads.
MORE LEADS ON LEAD PAGE!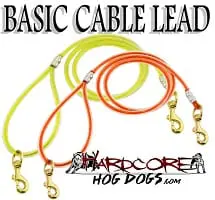 Colored Cable leads with quality snaps on each end.
$11.99
"HEAVY DUTY" CABLE LEADS!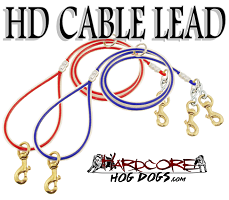 Quality Cable Leads with good BP or NP snaps on each end available in a few options.
$13.99 and up.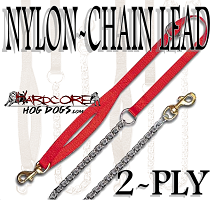 Looking for a full-length bull-dog lead check this one out.  Super Comfortable 1" Nylon handle for comfort & chain bottom for strength. Approximately 5' long w/ snap on each end & can be doubled over to shorten. Works great for bay dogs also.
15.99+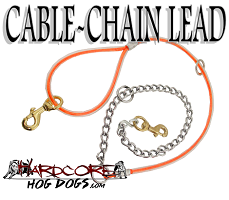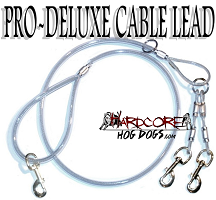 "TWO DOG"
This Deluxe Lead are made of heavy duty cable & has a 2-Dog coupler built into it.
3 Snaps
$19.99
REFLECTIVE DAY-GLO-CHAIN LEAD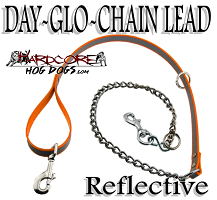 $17.99+
REFLECTIVE EASY TO SEE, HARDER TO LOOSE!
Chain at bottom for chewing, Flat REFLECTIVE Day-Glow up top for a SOFT FEEL!
3 & 2 DOG COUPLERS / Splitters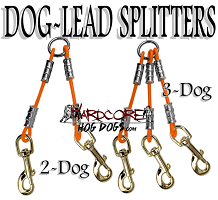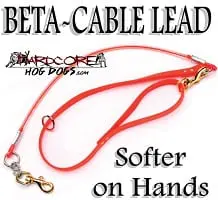 $16.99+
SOFT ON YOU HANDS!
Cable at bottom for chewing, soft flat beta up top for a LIGHT SOFT FEEL!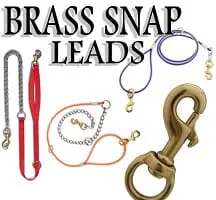 $17.99+
Full Variety Cable, Cable-Chain, or Nylon-Chain Leads with BRASS snaps on the Dog end of the lead!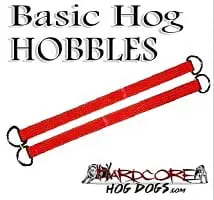 These are regular basic hobbles at a great price and has lots of great features added like being Double Layered and also Long Hobbles to fit most common sized hogs. On Sale and Great for any Budget!
$10.99 $8.99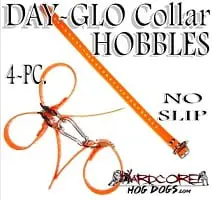 This New Hobble could be the best design out there. Easy to use...separates in four pieces...good durability...and holds tight.
$19.99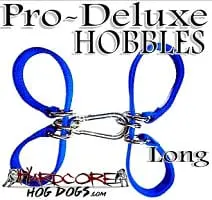 These Double Layered Hobbles feature an extra strong, easy click snap for easy hobbling! Average hog 125-300lbs. Blue or Black
$12.99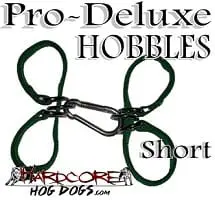 These Double Layered Hobbles feature an extra strong easy click snap for easy hobbling! Average hog 50-180lbs. Green or Orange
$12.99
Tired of loosing or misplacing hobbles, maybe this will help...Now offering our best selling hobbles in REFLECTIVE Orange or Pink.
$15.99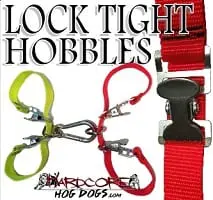 This hobble applies the basic principle of a Deluxe hobble or Pro-Signature hobbles, but with a locking style CAMS so that to eliminate slipping of miss-sized hobbles. Features a two-part system for easier installation.
$20.99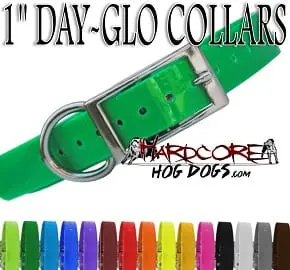 Day-Glo 1" Reflective Collars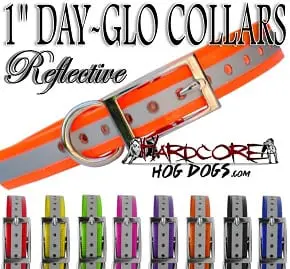 Day-Glo Bull Dog Collars 2" Wide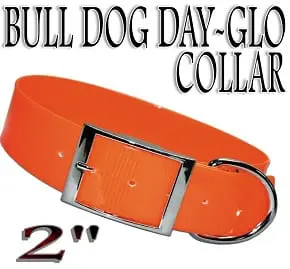 2" Wide with D-Ring in Collar.
12.99+
CAMO, Rebel and American Flag 1" Collars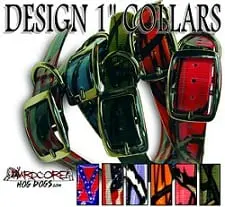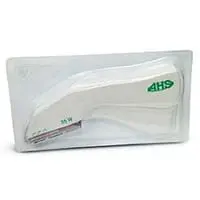 $19.99 SALE $15.99 35W STAPLES
Top Quality Stapler, Preloaded with Sterile 35 Wide Staples.
MEDICAL GRADE Staples and unique ratchet system to prevent Jamming. Clean after each use.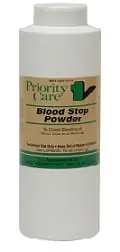 +$1 Heavy Shipping Charge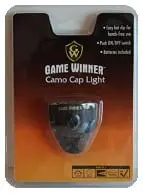 We thought this would be a great item to carry on the site, that you might need while on the site to add on to your order so you can add them to you hat. These bright lights give you a hands free and super light light to hobble hogs or handle dogs!
Batteries Included!
$9.99
BIG DOG MICRO ALPHA CAPLIGHT


For those of you looking for a great knife just in a smaller package we bring you the SRK. AUS 8A Stainless-Steel Blade with Teflon Coat. Blade measures 6". Just like the OSS and Boar Hunter it includes locking hard Sheath and the Premium Quality of Cold Steel
$109.99  $94.99

$99.99
The knife I choose to use. This is a knife that provides effortless sticking and quick kills! Non-slip handle protects your hands. Being a Cold Steel Knife, it has the best steel, razor-sharp edge, and a case that locks the knife in so that it does not fall out. Retail is $99.99 on this knife and while supplies last I will have this knife on sale!

This is a knife that provides effortless sticking and quick kills! Non-slip handle protects your hands. Being a Cold Steel Knife, it has the best steel, razor-sharp edge, & a case that locks the knife in so that it does not fall out. Retail is $100.99 on this knife & while supplies last I will have this knife on sale! Overall 13 3/8"
$99.99

$24.99
Robust 7 1/2" Stainless Steel Clip Point Blade, Engineered to handle the worst. Black Coating bolsters corrosion resistance and rugged handle with rubberized non-slip grip give it incredible feel, ideal weight, and is well balanced with sheath, ALL AT A GREAT PRICE! Overall length 12 1/2"

This knife is extremely similar to the cold steel OSI, but with a cherry handle. It does not have the expensive locking case that the cold steels have, thus allowing us to market it at a great price for awesome sticking knife. Great for Left Handers.
$39.99  ONLY $29.99

This Simple Rubber Handled skinning knife comes at a Great Price and holds a good edge.  Great knife for a bag, truck, or the skinning shed. Knife is constructed with a stainless steel blade and a rubberized handle. Includes ABS sheath. 8 1/2" overall.
$9.99  ONLY $8.99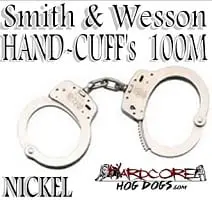 S&W's most popular chain handcuff 100M Nickle hand-cuffs are the standard that hog hunters trust. The Smith & Wesson Model 100 Handcuffs are manufactured from the finest quality carbon steel with heat treated internal lockworks. GREAT for a short term fast hog tie. Comes with two keys.
$29.99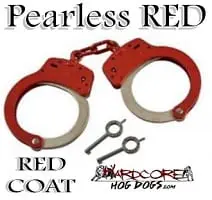 The Red  finish provides a high level of durability, scratch, and rust resistance in handcuffs on the Durable Model 100 handcuffs. Red makes it easier to see or find!
Comes with two keys.
$31.99
S&W MELONITE 100M HAND-CUFFS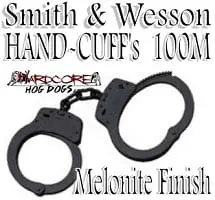 COATING used on S&W's guns, the new melonite finish provides a new level of durability and scratch and rust resistance in handcuffs on the Durable Model 100 handcuffs. Comes with two keys.
$32.99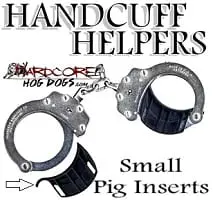 Now with any handcuffs you can firmly secure ANY SIZE HOG, in just seconds! These Helpers help handcuff hold those smaller hog. Add to your handcuffs in just seconds!
$10.99