Providing the mobility and protection needed for today's blood tracking dogs, Hard Core Hog Dogs has used it's technology of 20 years of hog dog, brush dog, bird dog, and blood dog vest, to provide the newest and best line of blood dog protection, along with other options and supplies for blood tracking.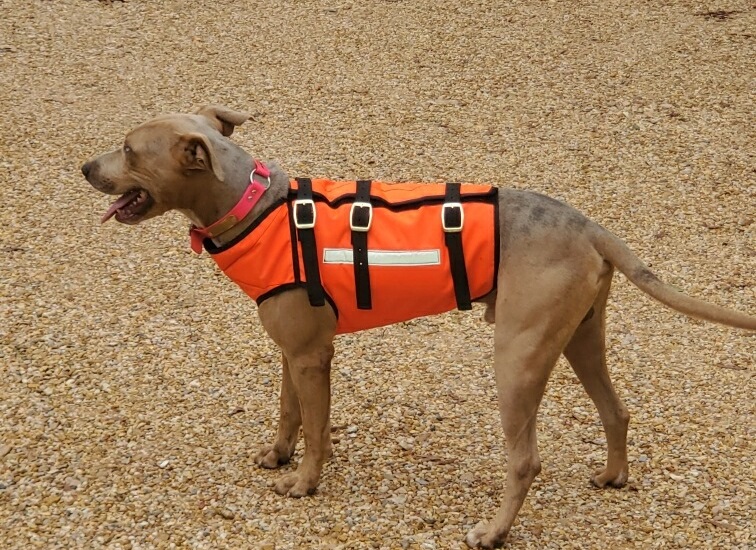 BLOOD, BIRD, or BRUSH OPTIONS
Brush Blood Dog Vest(s) are special formulated by applying 20 years of hunting dog experience (deer, hogs, rabbits, coon, bear, etc.) to the needs of hunting dogs not hog hunting. Features Great Mobility, with hog-dog strength for excessive protection against horns, hooves, briars and other possible forms of projectiles, etc. all while being LIGHT WEIGHT! Available in  Kevlar and Non-Kevlar Versions and Open Back or Closed (Drop-Top) Back Versions. Come in BRIGHT ORANGE, PINK, or NEON GREEN options standard and can be custom built with many other options. Vest can be run with or with-out cut collars and works with tracking collars. Features a custom specialized leg hole pattern for easier movement, Double layered straps, Cross Stitching, and Reflective Strips. Drop-Top Closed back Design allows you to run the vest with a OPEN OR CLOSED back depending on your weather and vest needs that days.
CALL WITH ANY QUESTIONS 985-630-2460